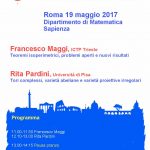 This year, the annual UMI meeting will take place in Rome on Friday May 3rd preceded by two Scientific colloquia.
The meeting will be in Aula Picone in the Mathematics Department 'Guido Castelnuovo' with the following program:
11:00 a.m. – 11:50 a.m. Lecture by prof. Francesco Maggi (University of Texas at Austin)
12:10 a.m. – 1:00 p.m. Lecture by prof. Rita Pardini (University of Pisa)
1:00 p.m. – 2:15 p.m. Lunch Break
2:15 p.m. Members meeting
This member meeting will be particularly important because of some little but relevant changes in the Regulation. These changes relate to a maximum numbers of successive reengagement in the Scientific Commission.
http://umi.dm.unibo.it/colloqui-scientifici-assemblea-dellumi/
website a web page with further information and the possibility to enroll for the event.